Rooms
Miramar is a restaurant with rooms. In order to our guests could enjoy their whole experience, we offer five amazing suites full facilities and details equipped with, touching the sea line in the center of Cap de Creus Natural Park.
The rooms are placed in the first floor of Miramar restaurant and next to our chef's house. A unique experience with the kind care of Paco, Montse and the team, who makes you feel as your own house.
A place to get thrilled with Paco Pérez's kitchen and also to let you take care of. Where you may get up with a chef breakfast: natural juices and delicious blends of shakes, ecological products from Empordà, Benedict eggs and homemade sweet creations…
EIn our five suites you're able to disconnect of the routine and to connect with nature. Through them you may feel the Tramuntana wind, the Costa Brava sun, even the sea salt. You will dawn on the beach and you will have your breakfast seeing the fishermen going to fish.
Our five suites, each one
with a seaweed name,
have got:
Sea viewing (4/5)
Air conditioning
King size bed
(Treca interiors París)
Furniture and interiors
Euromoble de Bru
Free Wi-Fi (courtesy)
Loewe TV
Nespresso coffee machine
with free Krups (courtesy)
Water boiler (courtesy)
Algotherm Amenities (courtesy)
Mini-bar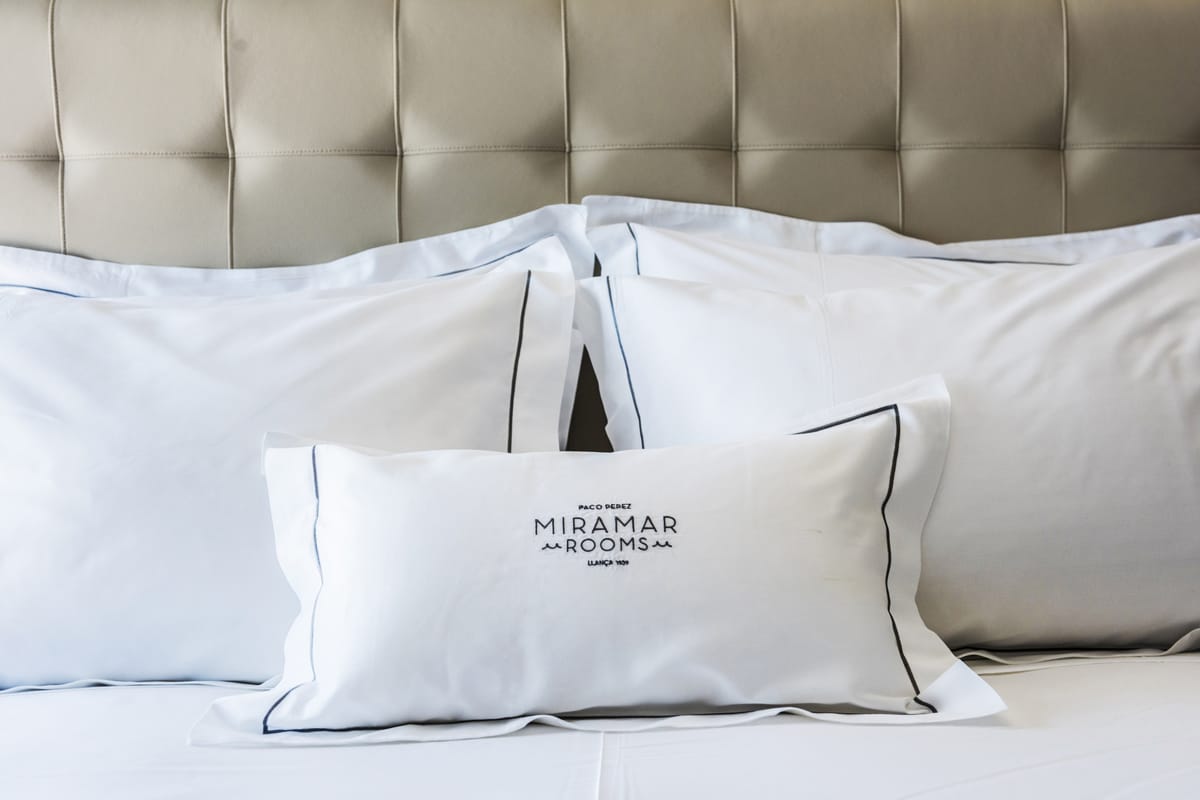 Book
now
You can book filling our form or by phone at
+34 972 380 132
.
Rooms
When we receive your ask, we will contact you to confirm your booking. Check-in: from 3:00 p.m. / Check-out: late at 12:00 p.m.
BOOK
GIVE A PRESENT

Enjoy our
environment
Miramar is gastronomy… and much more! It is nature, product and history. It's its environment.
We have the privilege being at Cap de Creus, the easternmost point of Iberian Peninsula. Is a unique place in the wildlife and nature in the region of
Alt Empordà.
Check some "
essentials tips
" when come and visit us:
Coastal Footpaths: enjoy of nice foot walkings close to the sea through coastal footpaths, who cross the whole Costa Brava.
Biking routes: in our surrounding you'll find hundreds of kilometers to bike, safe paths and for all ages and requirements. Discover the magic surrounding us, in two wheels!
Enoturism: Empordà, our Appellation d'Origine Contrôlée is one of the most growing wine regions, with its particular and quality wines, recovering ancient varieties. The nearness to the sea and the Mediterranean weather give it a special personality. Many of those wine cellars are reunited in the Empordà wine way and they offer visits and tastings.
More info: